Today I drove 1.5 hours north with lady (my dog) to Yolo, California, (another semi-ghost town). Except Yolo on google maps leads to a farmer's field with several no trespassing signs. I trespassed anyway but there was nothing there, so I turned around and went to this giant abandoned white house I had passed a mile back. It was standing lonely and somewhat sinister in the middle of a field, separated from other houses for miles, a boarded up island with one tree. It reminded me of a movie I saw as a kid and vaguely remembered about a poor family in a dilapidated house, (and it had probably starred Sissy Spacek and everyone was missing a tooth and hairbrush).

I parked in front of a chained fence, climbed under it, put my camera on the ground and filmed myself walking around the premises. I considered going in the opening in the back of the house (that was decorated with R.I.P. Semmi and other incomprehensible scribbled things in cursive graffiti) but got the creeps and sort of jogged back to the car. Instead I filmed from another angle for a few minutes then got a wig from the trunk.

After I put on the wig and some bright red lipstick I got out and there was a man in black walking toward the house and staring at me. I just stood there slowly removing my wig and he flipped me off and continued to walk to the back of the house. He looked like a bum.

I got back in the car and a cop pulled up behind me. He walked up and I tucked the wig under my dog.

"Hi. Just was wondering what you are doing and if you're having car trouble."
"Oh. No my car's fine I just stopped to take a picture of the house." My head was sticking out of the car completely, smiling, arms dangling down over the door like a marionette doll. I told him I was in art school but grad school and he asked where I was coming from and wow! so long why are you here? and Oh well then you want to go to Yolo? okay, well; I was currently in Cottonwood and so I needed to go straight, that way there and turn left and right and over a bump and to that side and there it is; and he tipped his hat and left.

I headed out heart thumping a little, and smoked a cigarette and proceeded down to Yolo which was about five miles past the original farm I trespassed, and consisted of a little post office and library and fire station. Everything looked too new to interest me. I wanted abandoned school houses and burnt barns and ghosts.

So I drove around the neighboring farms and made more short videos (but without the wig), in the trees and fields, that I could later split into stills. And then I gave up and decided Yolo was in fact anything but Yolo, it was dull; and I drove back through the wine country home.

(There is no moral to this story. I went nowhere and nothing happened. I can't wait to do it again.)





Powered by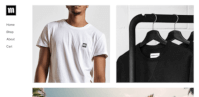 Create your own unique website with customizable templates.